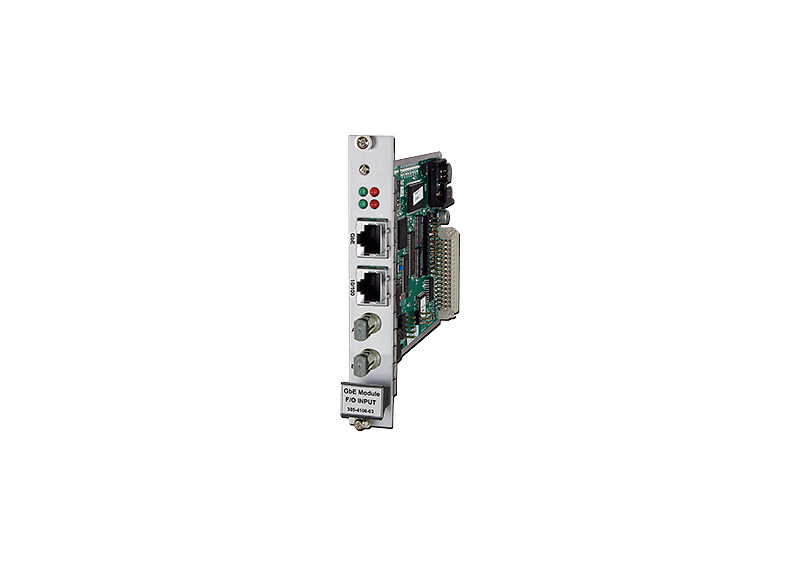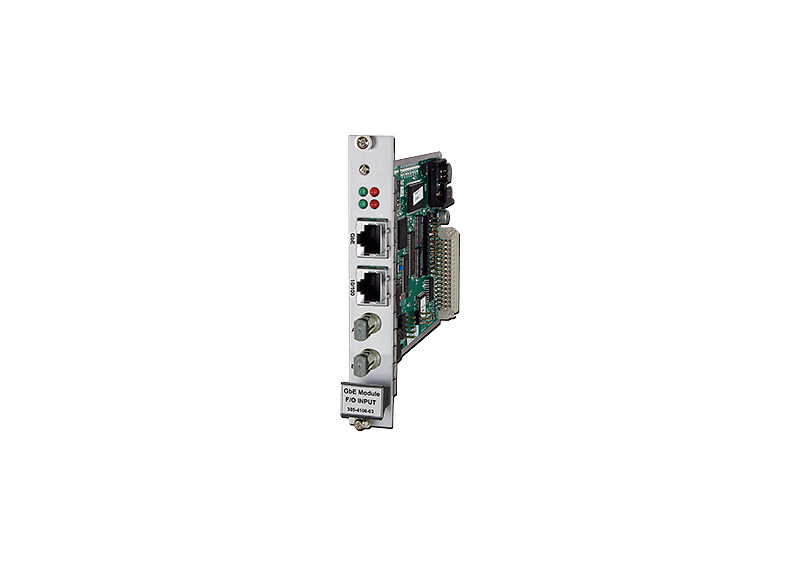 PTPv2 Ethernet I/O Module
FEI-Zyfer, Inc. offers two new IEEE 1588-2008 PTPv2 compatible product lines for customers that require off-the-shelf system or board level options for synchronization of PTP and legacy clients. For information call 714-933-4000.
Description
FEI-Zyfer, Inc., the leading provider of precision time and frequency reference systems, offers a IEEE 1588-2008 Precision Time Protocol (PTPv2) Dual Port Ethernet, Input/Output Module for our CommSync II® family of systems.
The PTPv2 Modules allow customers to configure new or existing systems to support both PTPv2 and legacy requirements. As with other FEI-Zyfer module options, the modules are hot-swappable and can be configured in any CommSync II, CommSync II-D, GSync or GSync II systems with available slots. The PTPv2 Modules are available in three versions: with an RS-232 Status & Control port, or with a 1 PPS external reference input, or with 1, 5, or 10 MHz external reference inputs via either coaxial or fiber-optic cables.
IEEE 1588 is designed for small LAN's requiring precise timing and synchronization beyond what can be attained with NTP v4. FEI-Zyfer's PTPv2 products support the IEEE 1588–2008 (PTP v2) protocol which includes enhancements over previous PTP versions such as transparent clocks for improved accuracy, fault tolerance and faster update rates.
The PTP v2 Modules provide one 10/100Base-T and one 100/1000BaseT IPv4 and IPv6 TCP/IP Ethernet connections. This allows the same Ethernet module to connect to two separate networks for controlling and monitoring of the CommSync II family of systems through Telnet, SSH or SNMP. The PTPv2 modules are configurable as either a PTP Grandmaster or Slave via the system RS-232 port or via the Ethernet port (Telnet). In addition to providing PTP Grandmaster capability, the module also provides (NTP/SNTP) network time service. When referenced to GPS, the PTPv2 Module can also be used as a Network Measurement device, allowing for the monitoring and measuring of PTP Grandmaster performance. Easy to read diagnostic LEDs on the Module provide for immediate visual identification of module status.
Three PTPv2 Module
versions available

100 nanosecond
accuracy over Ethernet
via pass-through hubs

PTP Grandmaster or
Slave, software
configurable

Gigabit Ethernet I/O
Includes Telnet, SSH,
SNMP, SNTP and NTP

IPv4 and IPv6 support

External Reference
Input Options:
1PPS:
50 Ω Coax, BNC
1, 5 or 10 MHz:
50 Ω Coax, BNC or
Fiber Optic, ST conn

External Reference
Media Options
Coax via BNC
Fiber Optic via ST

Support:
Lifetime support and
software upgrades
included