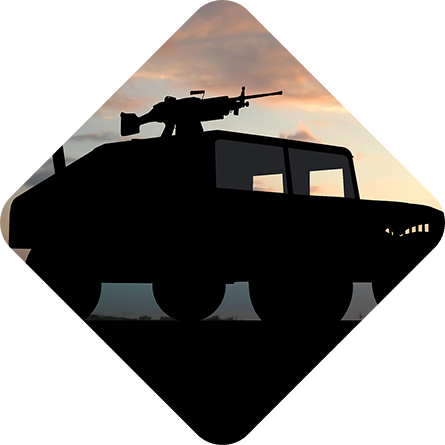 FEI-Zyfer offers SAASM GPS military time and frequency systems with two SAASM receiver options. Both SAASM MPE-S GB-GRAM and SAASM Force 22E MRU receivers are available for different military applications. Each SAASM receiver is coupled with FEI-Zyfer's proven crystal (OCXO) or Rubidium (Rb) oscillators to ensure stable holdover and output in the event of SAASM signal or other external reference signal loss.
Modular systems include support for multiple input and output modules including 1 PPS, IRIG, HAVE QUICK, PTTI, IEEE-1588 PTPv2, low phase noise 1, 5, and 10 MHz sine wave as well as custom outputs. Dual Redundant modular systems (CommSync II & CommSync II-D) may be configured with two SAASM GPS Time & Frequency (GTF) modules and two power supply modules (AC and/or DC power) for redundancy with uninterrupted automatic switchover.
Monitor and Control functions are via an RS-232 communications port, a front panel keypad and display, as well as optional Ethernet plug-in modules providing Telnet, SNMP, PTPv2, and NTP. Zyfer Monitor (FEI-Zyfer's remote access utility) provides complete remote control, including system status, setup, alarm logging and user management over a standard TCP/IP connection.
TIMING PRODUCTS
CommSync II® Model 385
Dual Redundant SAASM GPS Time/Frequency System
CommSync II®- D Model 407
Dual Redundant SAASM GPS Time/Frequency System
GSync® II Model 402
SAASM GPS Time/Frequency System
GSync® Model 391
SAASM GPS Time/Frequency System
NanoSync IV® Model 424
Military-Grade Position, Navigation, Timing (PNT) & Frequency Reference System with SAASM GPS
NanoSync IV® Model 424 – Low Profile
Military-Grade Position, Navigation, Timing (PNT) & Frequency Reference System with SAASM GPS
FREQUENTLY ASKED QUESTIONS
SAASM (Selective Availability Anti-Spoof Module) is the new generation military GPS receiver technology, providing a new security architecture and crypto key management infrastructure. Receiver hardware and software assets are protected by a tamper-resistant security module on the GPS receiver board. Crypto key security is protected by a new unclassified Black-Key infrastructure. Having unclassified hardware and key logistics greatly reduces the complexities of deploying military GPS.
The pre-SAASM GPS receiver technology requires the Civil C/A-Code signal to facilitate the acquisition of the crypto P(Y)-Code signal. In addition to a properly keyed receiver, the C/A signal provides the receiver with precision time and other parameters needed to acquire the P(Y) signal. The Hot Start acquisition functionality bypasses this need, able to come on-line in the absence of the Civil, in-the-clear C/A signal. This is a vital function of the SAASM receiver technology, because in today's tactical warfare scenarios, the C/A signal may not be available in the local area of conflict.
Many existing communications and data networks used by the government and DoD receive precision time and frequency from GPS-C/A-aided synchronization products. GPS-C/A signals/receivers can be easily jammed or degraded, causing degradation or loss of synchronization and communications, unacceptable in vital applications. The use of GPS-SAASM receivers prevents such loss of synchronization. Although GPS-SAASM receivers are "controlled items," they are not classified. Only U.S. Government and its NATO partners are authorized to use such military receivers.
Note: U.S. Government policy restricts the sale of Precise Positioning Service (PPS) equipment to those authorized by the U.S. Department of Defense. Non-U.S. authorized users must purchase PPS equipment through the Foreign Military Sales (FMS) process.